How to use document photo scanner?
Document photos are scanned (removes gray backgound) in four steps Uploading photo, cropping photo, further adjustments and download
Step1: Upload document photo

To upload photo from file click on gallary.
To take photo using camera click on camera button.
Step2: Adjust and Crop document photo
After image upload OnlineCamScanner will show crop options.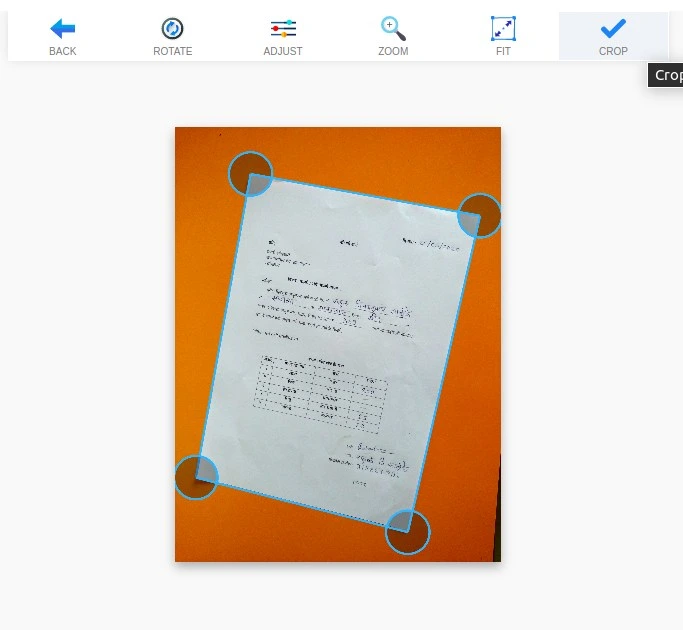 Setting Crop Area

After uploading document photo, OnlineCamScanner automatically detects the document corners in photo.
Adjust the corners which are not properly detected by moving circle presents on image.

Rotate


To rotate document photo click on rotate button.

Adjust


To Adjust brightness contrast for further improvement click on adjust. Adjustments can be done lazyer also, but making minor improvemenst improves scanning results.

Zoom


To see document clearly click on zoom button to zoom in and out. Use blue color scroll bars to scroll image.

Fit


If photo contains only document page and if you do not want to crop document photo click on fit button. To unfit click it again.

Crop


After all adjustment click on crop button.
Step 3: Further improvements, Page setup, rearrange scanned pages and Download
After cropping, Document photo is scanned and more options are provided to scan multiple document photos and rearrange pages, highlight text, page setup etc.
Add Pages


To add more pages in document for scanning press Add button.

Delete Page


To delete page from document click on delete, It will delete current selected page.

Zoom


Zoom is useful to see document clearly when using highlighter, eraser, pen tools.

Scanning Effects


To change scan effect click on effect button and selec effect. Effects are applied to only selected page. Super scan effect is default and applied to all documents.

Tools


To highlight and remove text from scanned document, click on tools menu.

Use highlghter tool to highlight text in document.
Use pen tool to draw on the document.
four color selection is available for highlighter and pen.
Size selections applied to highligter, pen, eraser and repaint tool.
To remove text from document image, select erase tool.
To get back removed, highighted text to original click on repaint tool.

Page Setup


click on page setup button to setup the output pdf page size, layout and margins.

Rearrange Pages


To change page sequence just drag the sidebar preview images.

Download Scanned document


Click on download button to download scanned document. Three download options are present. JPG, PNG and PDF. JPG and PNG will download current selected scanned page in image format. Pdf download will download all scanned document pages and applies